Logan Square is a vibrant neighborhood in Chicago popular with musicians, artists, and those who embrace an independent, urban spirit. If you're considering one of the homes for sale in Logan Square, here's what you need to know about moving to this unique community.
The Real Estate Situation in Logan Square

The Logan Square real estate market is currently somewhat competitive, with the average home selling for list price and staying on the market for an average of eight days. You'll pay a median price of $573,000 for a home in Logan Square, a price that is up more than 40% from one year ago. Homes for sale in Logan Square range between $144,000 for an 850 square foot apartment to over two and a half million for a six bed, three and a half bath on W. Palmer Blvd.

As of July of 2021, there were 468 homes for sale in Logan Square. Due to the competitive market, you may experience more challenges than usual when it comes to locating a home you're interested in and having your offer accepted, but you can still find a house that suits your needs with the help of an experienced Logan Square real estate agent.
Logan Square Demographics

With a total population of a little more than 70,000, Logan Square has an average household size of 2.4, and the majority of residents are between the ages of 20 and 34 (the second-most populous group is between the ages of 35-49). Most residents have a bachelor's degree or higher and were born and raised in the Chicago area. The median income of those living in Logan Square real estate is $82,908, and 37% of homes in the area are owned by their residents.
Things to Do in Logan Square

When you buy homes for sale in Logan Square and move to this iconic neighborhood, you will never have to wonder how you'll entertain yourself. If you like the outdoors, you can stroll through Palmer Park or explore the Paseo Prairie Garden. Culture enthusiasts can wander through used book store Uncharted Books, look at art at Galerie F or take in a movie at The Logan Theatre. Interested in history? Check out the Illinois Centennial Monument. No matter what your interests are, there's always something to do nearby in Logan Square.
Where to Eat in Logan Square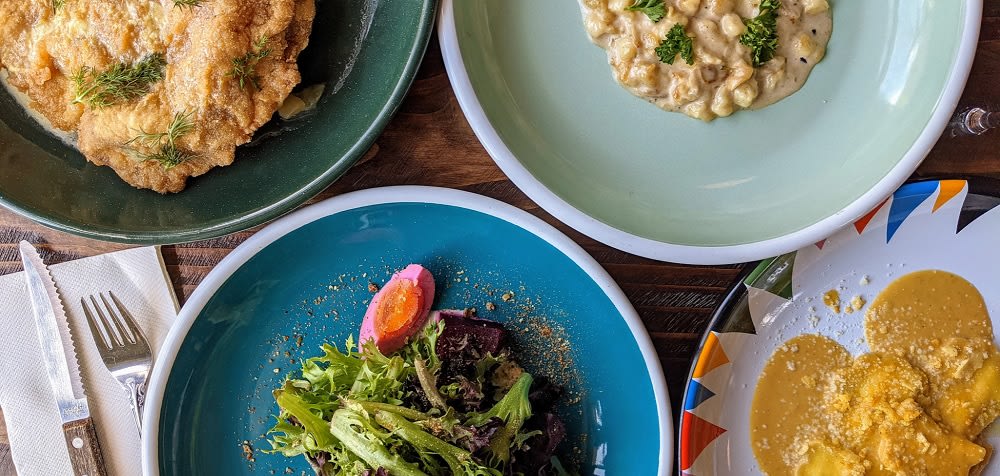 Credit: Flat & Point
Whether you want upscale fare or a casual eatery where you can grab a sandwich on the go, Logan Square has plenty of restaurants to choose from. If smoked meats and innovative recipes are your things, try out Flat & Point for a brisket bagel sandwich, schnitzel, or ravioli with crispy pork. Are fried rice and dim sum more your style? Try Friendship Chinese Restaurant, where more adventurous diners can check out unique items like barbarian steak with five-spice crispy onions. Those who want something really different should make a point to eat at Jibaritos y Mas for their famous Puerto Rican-inspired sandwiches.
Where to Drink in Logan Square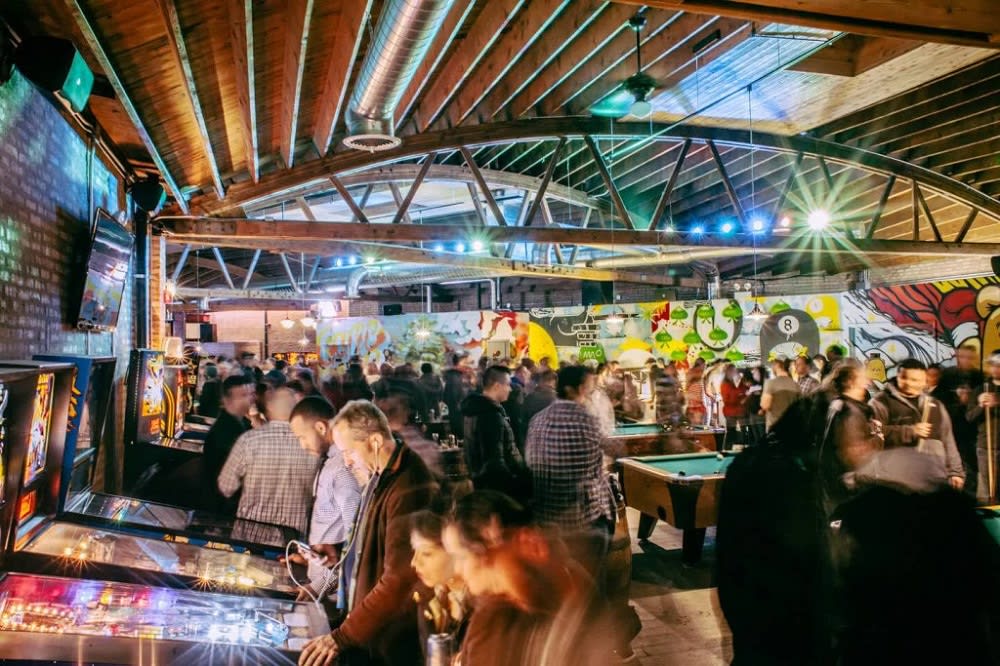 Credit: Emporium
Want to forego the full meal and just meet some of your friends at a cool bar? Those who own Logan Square real estate have plenty of venues to choose from depending on their preferences and the mood they're in. Emporium has old-school arcade games, foosball, and pinball — as well as more than 100 types of beer — for those who still like to act like kids every once in a while. Scofflaw has a speakeasy vibe with creative cocktails and a mood unlike any other establishment's. And, if you want to keep it low-key and casual, you can duck into Best Intentions for a chat with one of the friendly bartenders and a handmade cocktail.

For those who want a drink of the caffeinated variety, there are several options, including old standards like Dunkin' Donuts and Starbucks as well as local choices like Intelligentsia (try their coffee milkshakes), Gaslight Coffee Roasters, Chiya Chai Café, and New Wave Coffee.
How to Get a Workout In

Active buyers of homes for sale in Logan Square have several choices when it comes to getting in their daily exercise. They can hit pet-friendly Palmer Square or Logan Square Dog Park for a run with their pooches, bike The 606 or meet up with a friend for a stroll on Bloomingdale Trail. If traditional gyms are more your style, you can choose from Orangetheory Fitness Logan Square, Planet Fitness, or local option Logan Square Fitness.
Tips on Buying Homes for Sale in Logan Square

Ready to move to a new home in the Logan Square area? Use these tips to increase your chances of success in this competitive market:
◾ Get pre-approved.

Those with homes for sale in Logan Square are less likely to accept an offer from a buyer who is not pre-approved for a mortgage. Go through the pre-approval process and bring your letter with you when you start looking at homes.
◾ Be ready to act quickly.

Homes on the market go quickly in Logan Square, so you need to be prepared to make an offer on the spot when you find something you like. Waiting even a few hours could mean losing the property to a more motivated buyer.
◾ Work with an experienced Logan Square real estate agent.

Your best bet when looking at homes for sale in Logan Square is to partner with a local agent who can guide you through the home search and buying process. Your agent will be by your side as you look at homes, craft offers that will be appealing to sellers, and act on your behalf if you find yourself in a multiple offer or bidding war situation. Your agent can also help you through the tedious closing process and ensure you have everything you need to move into your new home.

Ready to get started on your home-buying journey? Reach out to an experienced Logan Square real estate agent like those at the PCR Group for guidance.